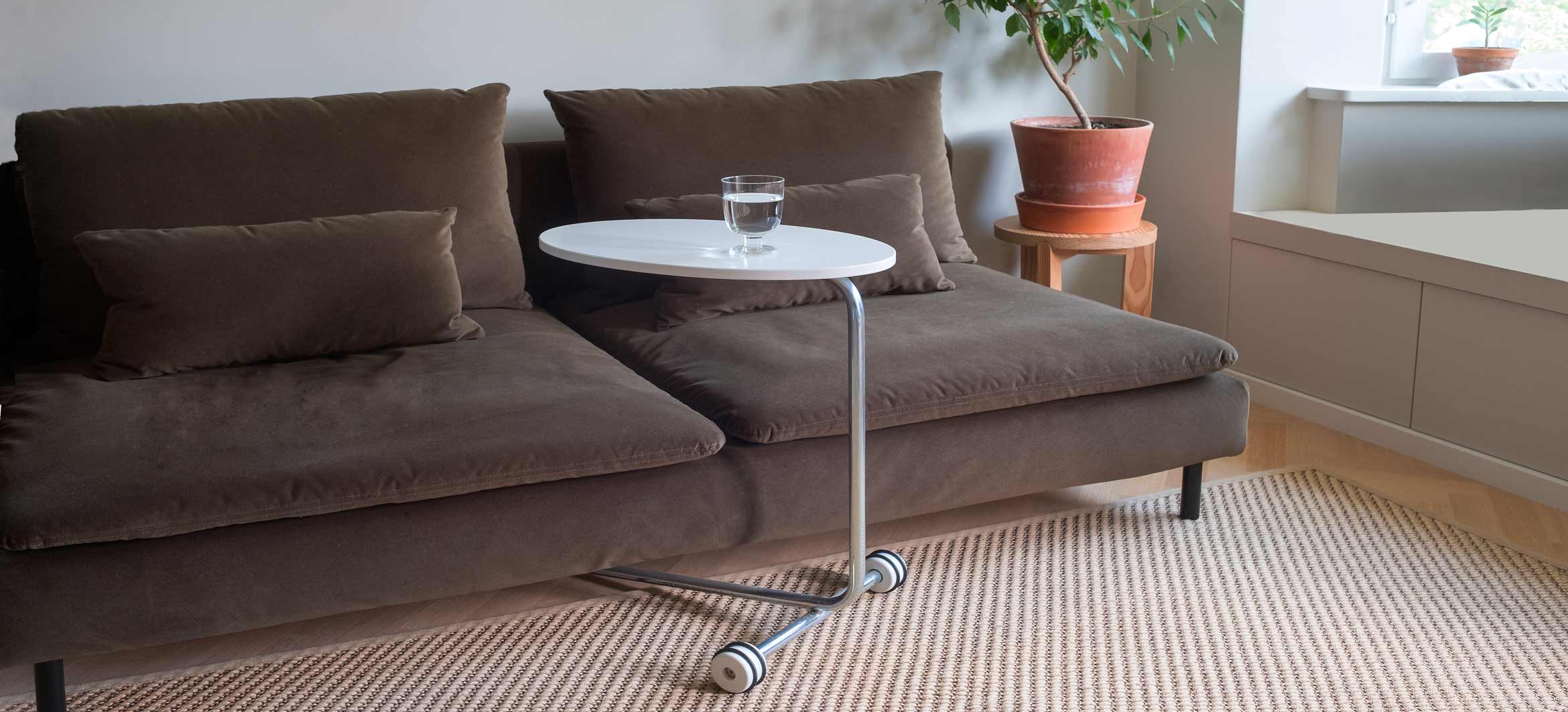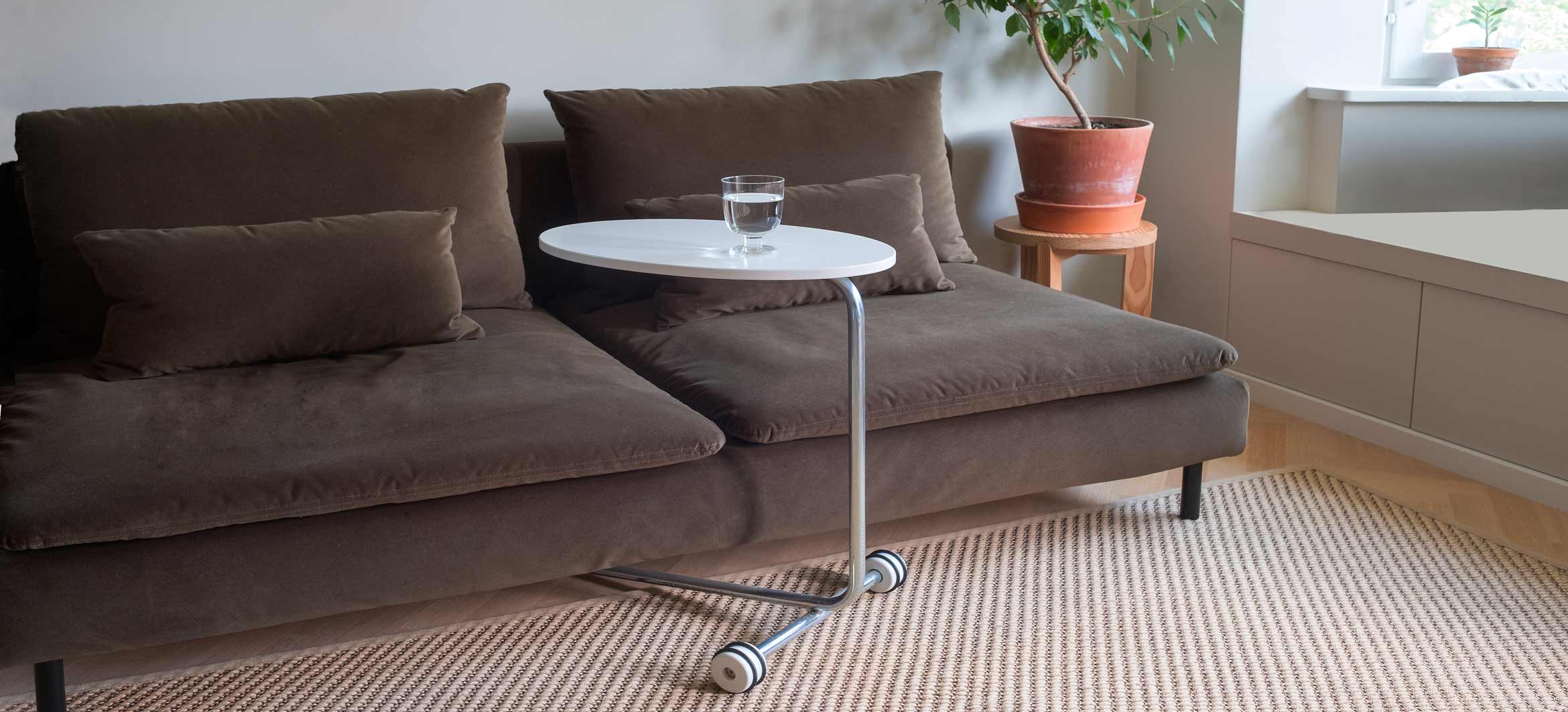 Roller
Roller is a small flexible table large enough for a mobilephone, coffee cup and remote; or all of them at the same time. Roller is easy to move to where it is needed – beside the bed, next to your couch or alongside your favorite chair. The wheels comes with rubber treads, the tabletop in solid wood and the undercarriage is in painted or chromed steel. Simply a functional piece of furniture.
Design: Mårten Cyrén
Download 3-D objects and other information at the bottom.
Download 3-D objects and other information
[unex_ce_button id="content_lhi5cpd6d,column_content_7h7wu090q" button_text_color="#000000" button_font="semibold" button_font_size="11px" button_width="auto" button_alignment="left" button_text_spacing="2px" button_bg_color="#eeeeee" button_padding="15px 30px 15px 30px" button_border_width="0px" button_border_color="#000000" button_border_radius="0px" button_text_hover_color="#ffffff" button_text_spacing_hover="2px" button_bg_hover_color="#000000" button_border_hover_color="#000000" button_link="https://drive.google.com/open?id=0BzO5iuI-5eP-ZWxDREE1VlJsTVU" button_link_type="url" button_link_target="_blank" has_container="" in_column="1"]DWG 2D[/ce_button]
[unex_ce_button id="content_lhi5cpd6d,column_content_0xnot0j0b" button_text_color="#000000" button_font="semibold" button_font_size="11px" button_width="auto" button_alignment="left" button_text_spacing="2px" button_bg_color="#eeeeee" button_padding="15px 30px 15px 30px" button_border_width="0px" button_border_color="#000000" button_border_radius="0px" button_text_hover_color="#ffffff" button_text_spacing_hover="2px" button_bg_hover_color="#000000" button_border_hover_color="#000000" button_link="https://drive.google.com/open?id=0BzO5iuI-5eP-OVE5c2lqcDlhYUk" button_link_type="url" button_link_target="_blank" has_container="" in_column="1"]DWG 3D[/ce_button]
[unex_ce_button id="content_lhi5cpd6d,column_content_yrkycpdiz" button_text_color="#000000" button_font="semibold" button_font_size="11px" button_width="auto" button_alignment="left" button_text_spacing="2px" button_bg_color="#eeeeee" button_padding="15px 30px 15px 30px" button_border_width="0px" button_border_color="#000000" button_border_radius="0px" button_text_hover_color="#ffffff" button_text_spacing_hover="2px" button_bg_hover_color="#000000" button_border_hover_color="#000000" button_link="https://drive.google.com/open?id=0BzO5iuI-5eP-Ujg2V2prTnZNY2M" button_link_type="url" button_link_target="_blank" has_container="" in_column="1"]Revit singel product[/ce_button]
[unex_ce_button id="content_lhi5cpd6d,column_content_a7c26q3l9" button_text_color="#000000" button_font="semibold" button_font_size="11px" button_width="auto" button_alignment="left" button_text_spacing="2px" button_bg_color="#eeeeee" button_padding="15px 30px 15px 30px" button_border_width="0px" button_border_color="#000000" button_border_radius="0px" button_text_hover_color="#ffffff" button_text_spacing_hover="2px" button_bg_hover_color="#000000" button_border_hover_color="#000000" button_link="https://drive.google.com/open?id=0BzO5iuI-5eP-cm5ZWnJzbXQ3cU0" button_link_type="url" button_link_target="_blank" has_container="" in_column="1"]Revit all products[/ce_button]
[unex_ce_button id="content_lhi5cpd6d,column_content_1lm8u95fr" button_text_color="#000000" button_font="semibold" button_font_size="11px" button_width="auto" button_alignment="left" button_text_spacing="2px" button_bg_color="#eeeeee" button_padding="15px 30px 15px 30px" button_border_width="0px" button_border_color="#000000" button_border_radius="0px" button_text_hover_color="#ffffff" button_text_spacing_hover="2px" button_bg_hover_color="#000000" button_border_hover_color="#000000" button_link="https://drive.google.com/open?id=0BzO5iuI-5eP-Wk10bUFxN1N4Q2M" button_link_type="url" button_link_target="_blank" has_container="" in_column="1"]Archicad all products[/ce_button]
[unex_ce_button id="content_lhi5cpd6d,column_content_465ri1vtf" button_text_color="#000000" button_font="semibold" button_font_size="11px" button_width="auto" button_alignment="left" button_text_spacing="2px" button_bg_color="#eeeeee" button_padding="15px 30px 15px 30px" button_border_width="0px" button_border_color="#000000" button_border_radius="0px" button_text_hover_color="#ffffff" button_text_spacing_hover="2px" button_bg_hover_color="#000000" button_border_hover_color="#000000" button_link="https://drive.google.com/file/d/0BzO5iuI-5eP-YlNHMWU3RmZQc3M/view?usp=sharing" button_link_type="url" button_link_target="_blank" has_container="" in_column="1"]Product leaflet, single product (PDF)[/ce_button]
[unex_ce_button id="content_lhi5cpd6d,column_content_vp1dgl5pc" button_text_color="#000000" button_font="semibold" button_font_size="11px" button_width="auto" button_alignment="left" button_text_spacing="2px" button_bg_color="#eeeeee" button_padding="15px 30px 15px 30px" button_border_width="0px" button_border_color="#000000" button_border_radius="0px" button_text_hover_color="#ffffff" button_text_spacing_hover="2px" button_bg_hover_color="#000000" button_border_hover_color="#000000" button_link="https://drive.google.com/open?id=1uNvvGheba7axuxUs665-HQMhzntEQHst" button_link_type="url" button_link_target="_blank" has_container="" in_column="1"]Product leaflet, all product (PDF)[/ce_button]
[unex_ce_button id="content_lhi5cpd6d,column_content_q8ohquu9z" button_text_color="#000000" button_font="semibold" button_font_size="11px" button_width="auto" button_alignment="left" button_text_spacing="2px" button_bg_color="#eeeeee" button_padding="15px 30px 15px 30px" button_border_width="0px" button_border_color="#000000" button_border_radius="0px" button_text_hover_color="#ffffff" button_text_spacing_hover="2px" button_bg_hover_color="#000000" button_border_hover_color="#000000" button_link="https://drive.google.com/file/d/0BzO5iuI-5eP-NEFTb3hyMkZUZlk/view?usp=sharing" button_link_type="url" button_link_target="_blank" has_container="" in_column="1"]Color and material overview (PDF)[/ce_button]