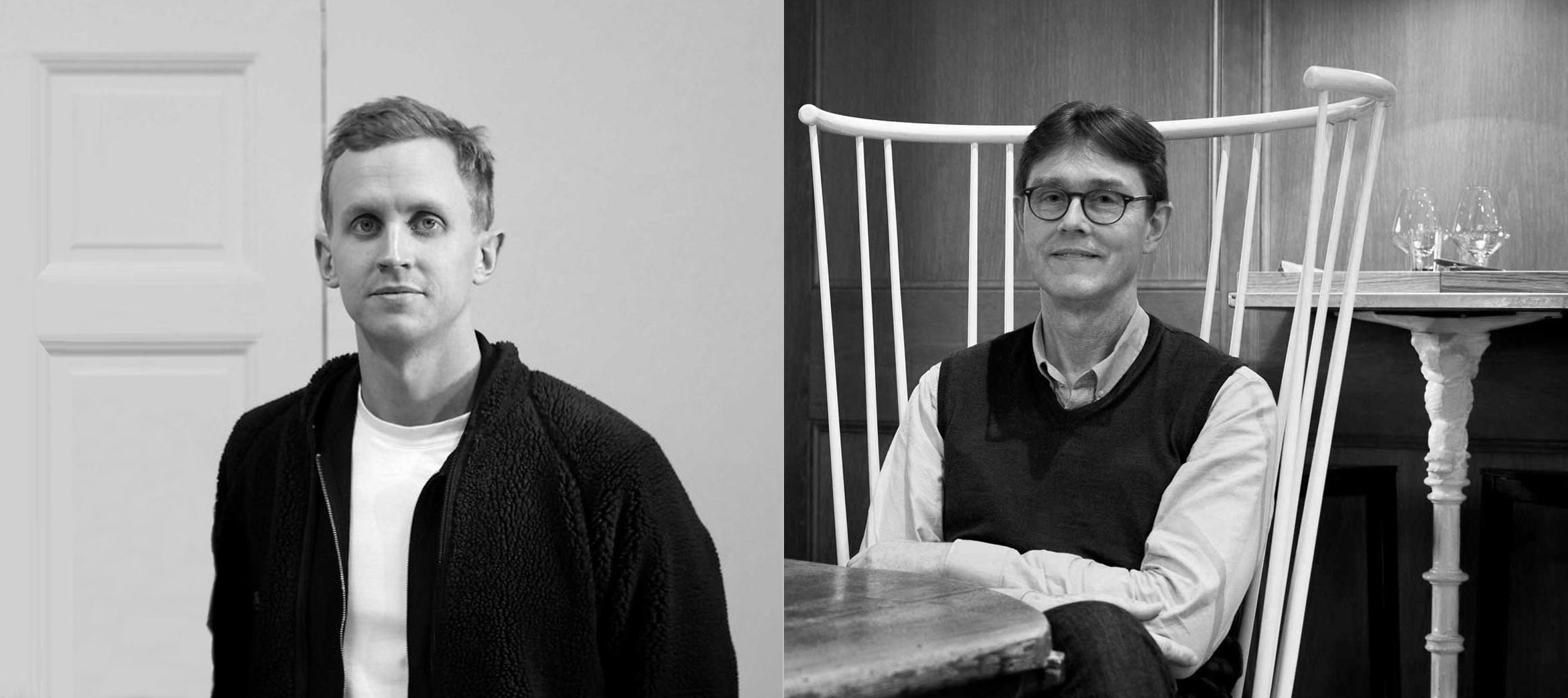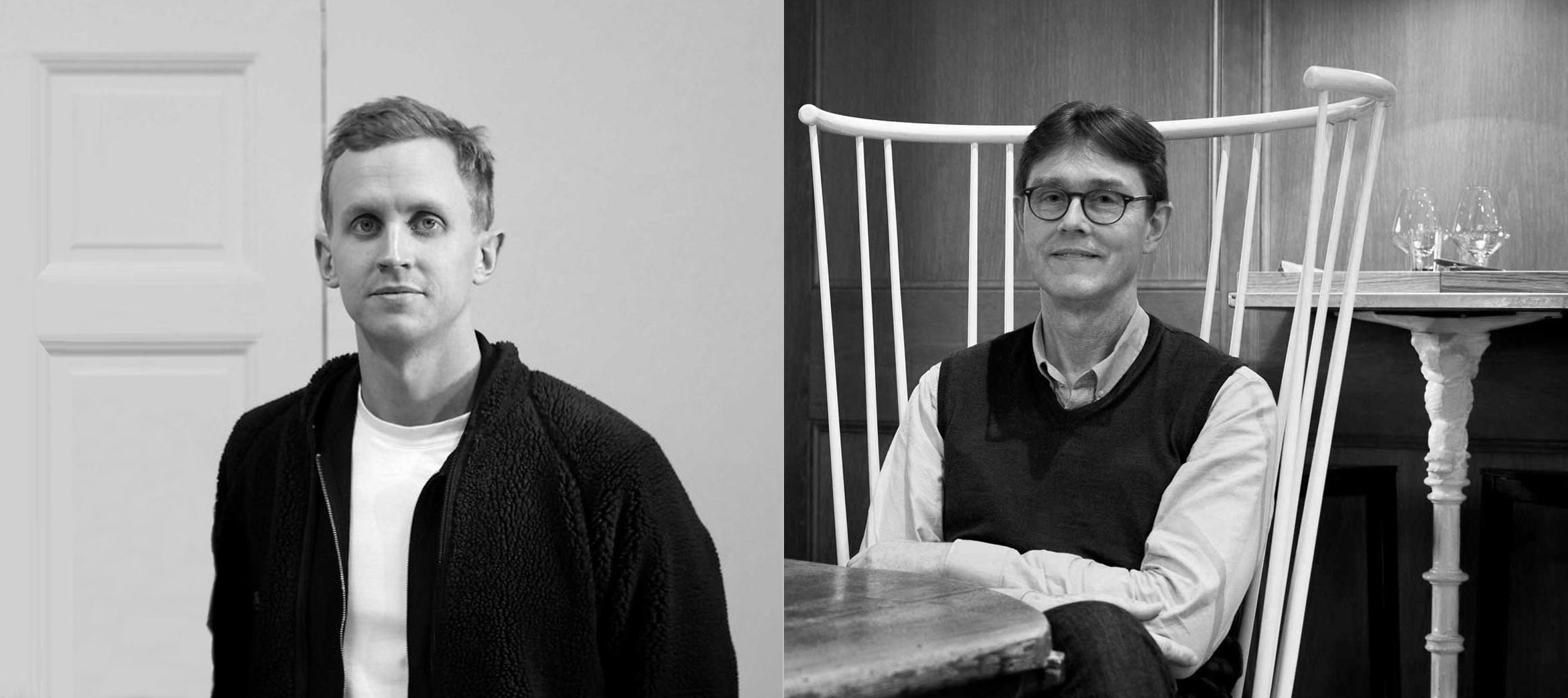 Carl Cyrén, Industrial Designer and Glass artist with experience from product development and cabinetmaking (left)
Mårten Cyrén, Interior Architect and Designer. He has been working with interiors and product design, since the mid-eighties. (right)

Storängen Design was established in early 2017 by Mårten Cyrén and Torbjörn Källberg – an idea 15 years in the making. In the fall of 2020, Mårten's son Carl took over as CEO and co-owner. The company collaborates with a network of established designers, craftsmen, and makers to develop a portfolio of furniture based on modern Scandinavian design and timeless ideals.
One of Storängen's standout products is the Storängen chair, which draws inspiration from the classic Windsor chair but adds a bold and charismatic twist with uncompromising functionality and craftsmanship. This chair gave the company its name and inspired their mission to establish a direct and honest connection between the craftsmen making the furniture and the buyers who appreciate it.
Storängen's furniture is sustainably sourced and manufactured with a combination of traditional skills and modern techniques. The classic designs are intended to last a lifetime, making their furniture a worthwhile investment for both professionals and private buyers.
If you have any comments, questions or suggestions, please contact us on,
Mårten phone: +46 (0)70 657 56 46, email: marten@storangendesign.com
Carl phone: +46 (0)73 899 92 19, email: carl@storangendesign.com
Address: Storängen Design AB, Banvägen 7, 131 41 Nacka, Sweden. email: info@storangendesign.com


Our friend Karl-Erik is a highly skilled carpenter and furniture maker based in Småland, Sweden's furniture manufacturing hub. He has an impressive knowledge of woodworking and years of experience under his belt.
Visiting his workshop is a pleasant experience, with Karl-Erik providing a friendly welcome amidst the sound of machinery, sawdust, and the aroma of different woods. His workshop combines traditional techniques with modern technology, allowing him to create top-quality furniture. With his extensive experience and natural talent for furniture-making, Karl-Erik can be relied upon to deliver excellent results.


Furniture constructed from branches and twigs has been around for a very long time. It is of course impossible to determine where and when this kind of furniture arose. But in the late 1600s or early 1700s, it is said that King George III discovered the chair in a commoner's home while out hunting. As he sat in the plain stick chair he ordered a batch to be made for Windsor castle, hence the name Windsor chairs.

The Windsor chair eventually made its way into the United States, spawning new regional variations. The Philadelphia Windsor had plain conical legs instead of traditional ball feet. The New England Windsor chair type was influenced by woodworkers in the New York area. Over the years many popular variations were developed: the Comb Back Windsor Chair, the Fan Back Windsor Chair, the Sack Back Windsor Chair...

With the return US emigrants in the late 1800s the Windsor chair was introduced to Scandinavia, sparking a new style of windsor, evolving a style befitting of our northern traditions and heritage.


Sustainability is largely a way of life and something we must embrace in threatening times for our environment. We are not claiming to save the earth, but we hope to make a small contribution.
Our goal is to make products from low impact materials with the potential to last a lifetime. Primarily we use sustainably sourced wood, a material that all parts of its life cycle can be considered environment friendly. However when necessary we also select harder wearing materials. One example is the metal in the lower part of the Tupp bar stool. The footrest is the part that will get the most wear so here the metal has a purpose to prolong the life both physically and aesthetically.
A Longer life for our chosen belongings is one step to slow down the depletion of limited resources. Our ambition is simple – to design products that hold up to everyday use and age gracefully. With this, we hope to provide furniture you will be using for a long time to come.